Thus, in addition to the basic course for pilots and captains, other courses proposed by Port Revel include a refresher course, a car carrier/container carrier course, a ULCC course, a LNG carrier course, an offshore course and a Great Lakes course. Recent courses offered include emergency manoeuvres and escort tugs (which are compulsory in certain countries - including the United States - in order to increase ship responsiveness in case of failure). A major innovation for 2006 is the pod propulsion course. Lastly, other new features added this year are two new current generators capable of creating a 2.5 kn current in the "Suez Canal" (8 km long, banks of 45%).
Races with ducks are even organised from time to time...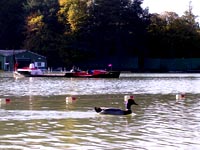 The course that I took was a "basic" course for captains and pilots, though adapted to suit the fact that two of the six students were "refreshers", i.e. at Port Revel for the second time. The training Centre's high level of flexibility is one of the major assets that contributes to its international reputation.